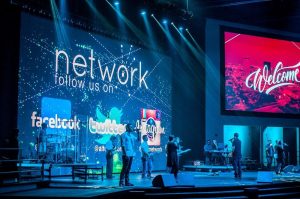 VDC has the experience and knowledge that TV stations need for the special designed custom built video walls used in broadcast TV stations.
With experience in the types of image technology used and the correct pixel pitch used, to making sure we match the correct color temperature of the studio lighting to the video wall giving natural looking images when cameras are showing live shots of personal in the  studio live on the video wall. 
We know what it takes for giving studios the creative  video walls and image quality they need in front of the camera, especially with mixed technologies like LCD and LED panels used in the same studio with the cameras viewing at both screens.
CORPORATE LOBBYS and BRIEFING CENTERS
VDC works with you and your designers to create a stunning corporate video wall from very small to very large video walls used in HQ lobby's and corporate briefing centers.
Experienced custom built walls are our strength with all types of technologies for a video wall that is eye catching and creative with options that can include touch options and have collaborative type interaction if needed.
From Flat to concave or convex video walls these are all possible designs that can be achieved in giving you a very impressive video wall that works for you.
Let VDC custom design a video wall around your corporate theme and that fits your budget.
WORSHIP CENTERS
VDC has the expertise and experience to build custom video walls to fit the layout of your church or meeting rooms. We build the mounting frames to meet the different layouts to fit around any building obstacles in your specific church and recommend the best type of product suited for your custom built video wall.
Coming up with the right solution for your church is critical to ensuring your requirements and satisfaction are met. To achieve this goal, it is very important to understand the different types of products available, taking into account the physical size of the church, the viewing distance, the lighting, and for use in very dark to very bright areas.
All Church layout designs are different and require engineers to custom design the video wall that fits with the surroundings with minimal changes to the building.
All types of video wall technologies can be used in Churches from projectors to LCD to LED types.
Selecting the best option is critical.
Multiple smaller screens also can work for you; this depends on the layout of the church and the viewing angles of the congregation.
Let VDC tailor your video wall for a custom product design for a video wall that fit into your church and with your budget in mind.