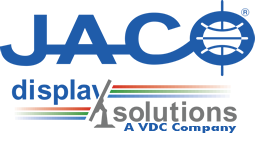 PROFILE
BUSINESS DESCRIPTION
The Company manufactures and distributes a wide range of display devices, encompassing, among others, industrial, military, medical, and simulation display solutions. The Company is organized into five interrelated operations.
Simulation and Training Products – offers a wide range of projection display systems for use in training and simulation, military, medical, entertainment and industrial applications.
Cyber Secure Products – offers advanced TEMPEST technology, and (EMSEC) products. This business also provides various contract services including the design and testing solutions for defense and niche commercial uses worldwide.
Lexel Imaging– offers a wide range of CRTs for use in data display screens, including computer terminal monitors and medical monitoring equipment.
Broadcast and Control Center Products – offers high-end visual display products for use in video walls and command and control centers.
Unicomp – Offers a variety of keyboard products.
Jaco Displays – Srovides display solutions from our new Jaco Display Solutions product line.LCD'S – Touch Panels – Engineering Services Optical Bonding – Repair & Replacement Services.
[stock_market_widget type="card" template="color-background-circle" color="#5679FF" assets="VIDE" api="yf"]
COMPANY INFO
Head Quarters Address:
5155 King Street
Cocoa, FL. 32926
Telephone:
(321) 784-4427
Fax:
(321) 784-6617
Email:
info@videodisplay.com
INDUSTRY CLASSIFICATIONS
SECTOR:
Electronic Components and Accessories
NAICS:
VDCDS: 334310
ACS: 334111, 334112, 334210, 334290, 541330, 541380, 541512, 541519, 928110
EIN:
ACS/VDCDS: 58-2424003
CORP: 58-1217564
DUNS: 
ACS/VDCDS: 078482026
CORP: 128662918
CAGE:
ACS/VDCDS: 6DP27
CORP: 58703
VDC Health Benefits Provided By: Cigna